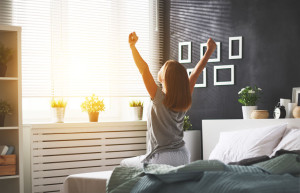 Have you heard of the millionaire morning routine that has recently made its way around social media?
The idea is that the most successful people follow a morning routine. The question is this: does it help?
Hal Elrod says yes: "Focused, productive, successful mornings generate focused, productive, successful days—which inevitably create a successful life—in the same way that unfocused, unproductive, and mediocre mornings generate unfocused, unproductive, and mediocre days, and ultimately a mediocre quality of life. By changing how you wake up in the morning, you can transform any area of your life, faster than you ever thought possible."
What do your mornings look like? Do they set the tone for the kind of day you want to have? Having a focused routine to start your mornings can help prepare you for the day ahead.
Don't hit the snooze button. As lovely as the extra minutes in bed may seem, you're not truly getting any additional quality sleep by hitting that snooze button. Rather than closing your eyes again, get out of bed at the sound of the alarm. Having enough time to prepare for the day will leave you in a much better mood than not having enough time and feeling rushed. Also, throughout a five-year study, he conducted, author Tom Corley, found that almost 50% of self-made millionaires wake up at least three hours before their workday begins.
Start your day by moving. Some people enjoy hitting the gym, while others take a morning run. Regardless of what you choose, any physical activity will help get your blood pumping and cause the production of endorphins that will leave you feeling happier to face the day.
Take some time to reflect. While there are many ways to reflect, it's less about the method and more about the outcome. People choose to use meditation, yoga, a gratitude journal or simply quiet time alone with their favorite morning beverage as an opportunity for reflection. Explore these and other methods to find what works for you.
Set the tone. The best way for you to have a productive day is to do something to get in the zone not long after you wake up. Consider what brings you joy. For some, this could mean meditating or going for a jog. Others might prefer to read the morning news over a cup of coffee. What works for one person won't necessarily work for someone else. What do you want your day to look like? How do you want it to feel? You must be intentional about what you choose to make part of your morning routine. Find what works for you — and be consistent.
Get organized. The most successful people start their day with a plan to prioritize and get the most out of their day. This may involve creating a short and precise to-do list, digitally or on paper. Make sure you put the most challenging things at the top and get these things done first.
Regardless of how you spend your morning, the key is developing a routine that you can maintain that effectively prepares you for the day ahead.
Want more? Check out this episode of our podcast here.